Fly with friends or family
Take a seat with your family or friends for a thrilling overflight of the Loire Valley and its Châteaux
On board your private helicopter, with a capacity of 4 or 6 passenger seats, you'll discover Châteaux including Chambord, Amboise, Villandry and Chenonceau,. depending on your chosen formula.
20-minute private flight: Villandry panoramic flight
Board a6-passenger seat helicopter and discover the magnificent Villandry Gardensand the Loire Valley's heritage Château de la Donneterie, Château de Poillé, the Loire, the Cher, Château de Luynes, Gallo-Roman Aqueduct, Château des Ligneries, Château de la Mulonnière, and Château de la Haute Barde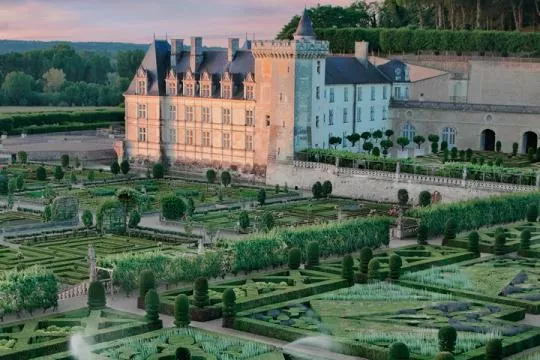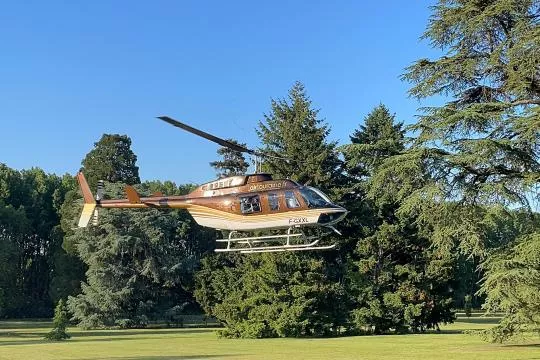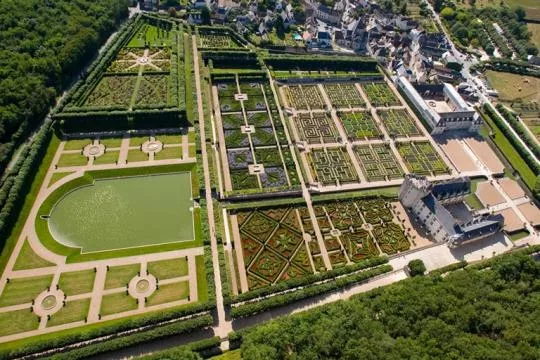 30-minute private flight: Amboise panoramic flight
Take to the skies aboard your private helicopter for 4 or 6 passengers and fly over Leonardo da Vinci's last home and many other remarkable sites:
Château de la Haute Barde, Grange de Meslay, Château de Jallanges, Vouvray vineyards, Château de Noizay, Chanteloup Pagoda, Clos Lucé, Château d'Amboise, Valmer Gardens, and Château de Beaumont-la-Ronce.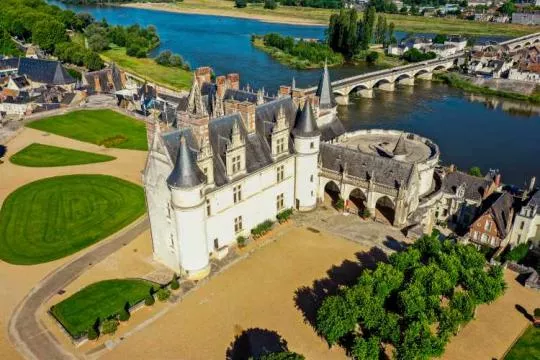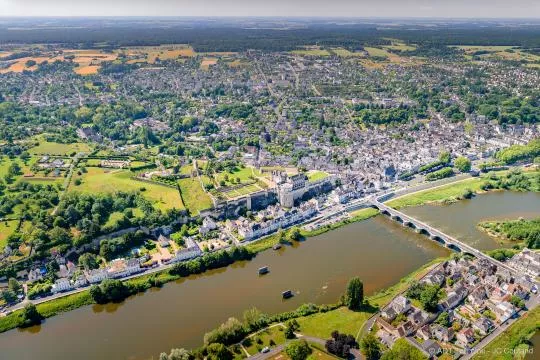 45-minute panoramic flight: Chenonceau panoramic flight
The "Château des Dames" is a waking dream, with its unusual design spanning the Cher.
During your 45-minute flight, you'll fly over Château de Chenonceau, Château d'Amboiseand manyother privately-owned sites: Château de Luynes, St Cosme Priory, across Tours (depending on traffic), Chateau de Bourdaisière, the Chanteloup Pagoda, Cos Lucé, and the Valmer Gardens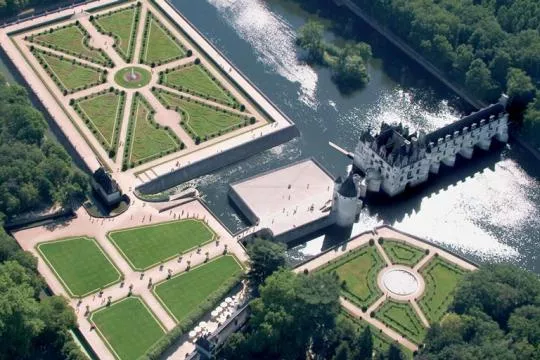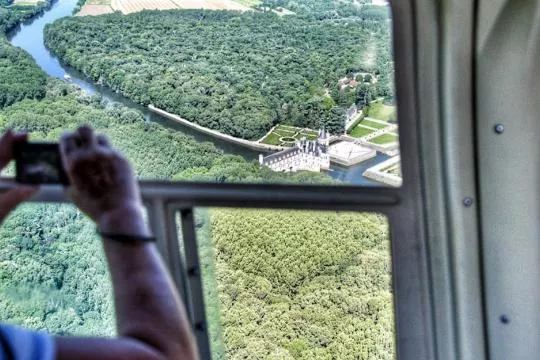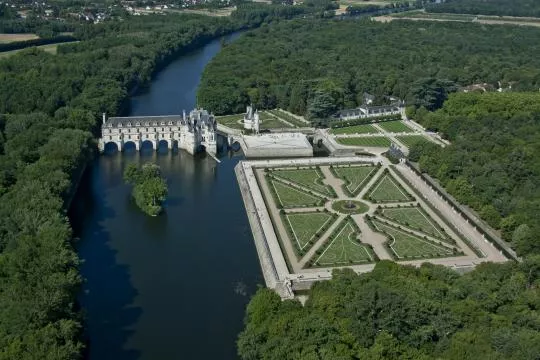 60-minute private flight: Chambord panoramic flight
A real must-do: An hour of discovery and pleasure aboard your private helicopter.
The most beautiful Châteaux parade before your eyes during your tour:
Chateau de Chambord, Chateau de Chenonceau, Chateau de Blois, Chateau d'Amboise, and Chateau de Chaumont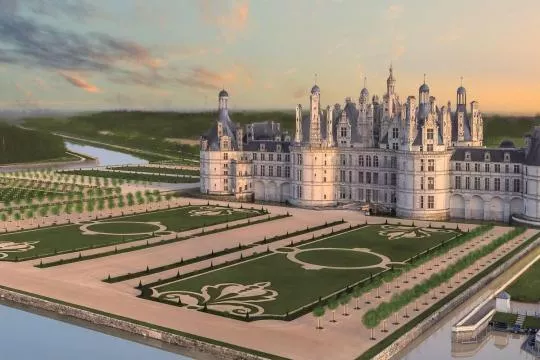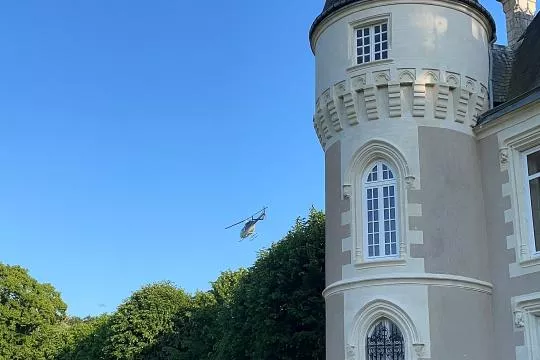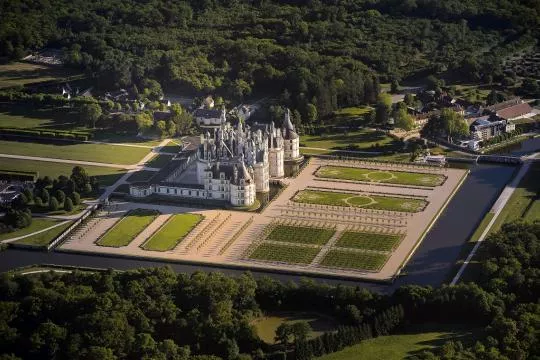 + Private flights: the best!
Experience quality time with your loved ones byprivatizing your helicopter and:
- Select your type of aircraft (4 or 6 seats):
-Choose your flight date (flights available all year round)
- Enjoy a privileged welcome and a longer flight time (depending on tour)
- At the end of the flight, enjoy a glass of champagne (option €20 a half bottle or €40 a bottle)
Do you want a customized flight? Ccontact us
+ Practical information on private helicopter flight
- The flight departs from the'heliport in Neuvy-le-Roi north of Tours
- Number of passengers on board: 4 to 6 people
- Public: Flight accessible to everybody , child from 4 years old
- Check-in is required 20 minutes prior to the flight time specified on your confirmation
- You will be given a pre-flight safety briefing
+ Terms and Conditions of sale, postponement and cancellation
Payment terms:
Full payment is requested at the time of order (by credit card or holiday vouchers)
You can pay in 2 instalments at no extra charge, by credit card via our secure platform
Extended Validity Option:
If you would like to extend the validity of your ticket, choose the extension option and get an additional year in which to make your flight
Deferral and cancellation option:
You can subscribe to acancellation option when ordering or booking a date, enabling you to postpone your flight or be reimbursed in case of definitive cancellation on your part (see terms and conditions)

+ Reservation
Book your flight: two possible options
Ticket valid for 1 year(gift box by mail or open ticket by email)


Choose a flight date when ordering online, in accordance with the proposed schedule . Don't hesitate to contact us if there are no available dates matching your wishes 0247248144